Surveys of patients all over the world show that more women than men get multiple sclerosis (MS). Two separate studies in the United States reported a female-to-male ratio of 1.8 to 1. A survey in western Australia reported a 2.8 to 1 ratio of women to men; and among those born in South Africa, a female-to-male ratio of 2.5 to 1 is accepted. One broader based study that actually reviewed fourteen different surveys concluded that the average risk for women as compared to men was 1.4 to 1.Which survey should be accepted? Perhaps none. Taken on face value, they seem to indicate that MS has a definite preference for women, but other factors must be considered.
At great risk of sounding sexist, it is our belief that women, in general, pay more attention to their health and see their doctors much more often than do men. So, although surveys show that more women than men contract MS, it is possible that the statistics are weighted in their favor simply because they make themselves more available for neurological assessments.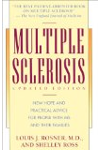 More About this Book
Multiple Sclerosis
Too often, multiple sclerosis is thought of only as "the crippler of young adults." But in fact, 75 percent of all people with MS will never need a wheelchair. In Multiple Sclerosis, Dr. Louis J....
Continue Learning about Multiple Sclerosis Causes & Risk Factors