Many people with multiple sclerosis (MS) want to know if too much sexual activity is considered overexertion. This is not a significant factor, nor is the rise in temperature during sex. The only time sex may be too much of an exertion is when the person has weak legs. In this case, some positions in sexual intercourse are better than others.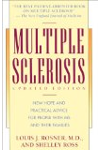 More About this Book
Multiple Sclerosis
Too often, multiple sclerosis is thought of only as "the crippler of young adults." But in fact, 75 percent of all people with MS will never need a wheelchair. In Multiple Sclerosis, Dr. Louis J....
Continue Learning about Multiple Sclerosis Causes & Risk Factors