Many patients fear they will transmit multiple sclerosis (MS) to their children. At the present time there is no scientific evidence that MS is transmitted from parent to child. However, there may be a transmission of susceptibility to MS.
A type of antigen - HLA - has been shown to have an increased incidence in MS patients and close family members. Some have suggested this antigen indicates an increased risk of developing MS later in life. But at this point genetic science tell us that MS cannot be transmitted to a baby and that inheritance remains only a minor suspect as the cause of the disease. The incidence of parents and children both having MS is very rare. Also, anyone desiring a family today has many reasons to be optimistic that a cure for MS will be available by the time the next generation reaches the average age of MS onset.
The decision to start a family should be based on the disability level at the time of discussion, the ability to care for children in later years, and the ability to deal with the stress of raising a family.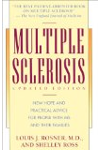 More About this Book
Multiple Sclerosis
Too often, multiple sclerosis is thought of only as "the crippler of young adults." But in fact, 75 percent of all people with MS will never need a wheelchair. In Multiple Sclerosis, Dr. Louis J....
Continue Learning about Multiple Sclerosis Causes & Risk Factors