Once a patient gets over the shock of being diagnosed with MS they then start looking for a possible cause. Patients often will find an article or hear a story about the relationship between MS and silver tooth fillings (amalgam). I have patients with MS that never had a filling or have the disease and lost all their teeth many years before they developed the disease.
After reviewing the American Dental Associations Evidence Based Dental site, http://ebd.ada.org/,and PubMed I located an article "Dental amalgam and multiple sclerosis: a systematic review and meta-analysis" by Aminzadeh and Etminan. They found a slight, non-statistically significant increase between amalgam use and risk of MS. The conclusion of the study was that future studies need to be performed taking into account the size of the silver filling, the surface area and duration of exposure.
As a conservative practitioner I cannot recommend prophylactic removal of amalgam fillings. When a silver filling fails, a tooth cracks or a cavity needs to be filled then a Resin Bonded Ceramic filing (white filling) is a reasonable option.
In the early 1980s, a few dentists claimed that multiple sclerosis (MS) was either caused by or aggravated by silver mercury used to fill cavities. The dentists advocated that this type of filling be replaced by either gold or plastic. In earlier literature a Swiss neurologist, Ernst Baasch, claimed a link between mercury toxicity and MS. Other reports suggested that a combination of gold and silver fillings with saliva causes neurological problems. The pure numbers of people with dental fillings versus those with MS make this theory very unlikely. Also, MS has been around much longer than modern dentistry. The replacement of fillings as a treatment for MS also remains highly suspicious on the basis that those who advocate it make a great profit from it.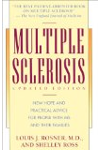 More About this Book
Multiple Sclerosis
Too often, multiple sclerosis is thought of only as "the crippler of young adults." But in fact, 75 percent of all people with MS will never need a wheelchair. In Multiple Sclerosis, Dr. Louis J....
Continue Learning about Multiple Sclerosis Causes & Risk Factors