The most crucial tip you need to follow to prevent a hospital infection is one you've heard before. It's also one that's constantly ignored or forgotten. And it's one that the smartest patients take as seriously as monitoring the drugs they swallow and choosing the surgeons who try to repair them. It can be distilled to three clear words:

Wash your hands.

This order goes to everyone who may come in contact with you. They need to scrub their paws. Before touching you. Before touching your sheets, or your water cup, or your side table, or anything else that you could conceivably touch. If they're conscientious enough to put on new rubber gloves as well, that would be marvelous. But hand washing is mandatory.

It's understandable that harried nurses and doctors occasionally forget to do this, but it's not acceptable. No hospital should have a room without a sink or an alcohol hand gel dispenser. No clinic or doctor's office either.

Posting a sign in your room that says "Thanks very much for washing your hands" can help. This goes for all visitors, too. If you're able to get up, wash your hands with soap and water several times a day and after you touch each visitor.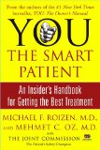 Continue Learning about MRSA