A molybdenum deficiency has been suggested as a cause of sulfite sensitivity since the enzyme that detoxifies sulfites, sulfite oxidase, is molybdenum-dependent. However, molybdenum deficiency is rare, likely due only to a genetic sulfite oxidase defect or during long-term total parenteral nutrition therapy, where nutrients are administered intravenously only. The average diet contains 50 to 500 mcg of molybdenum per day. Legumes and whole grains are the richest sources of molybdenum.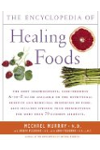 More About this Book
Encyclopedia of Healing Foods
From the bestselling authors of The Encyclopedia of Natural Medicine, the most comprehensive and practical guide available to the nutritional benefits and medicinal properties of virtually everything...
Continue Learning about Molybdenum