Childbearing loss evokes many emotions. You may feel buffeted and torn by confusion, relief, shame, anger, sorrow, fear, powerlessness, or despair. You may want those around you to comfort you physically and listen empathetically. Some of your friends and family may not be able to handle the loss. Others may offer platitudes such as "You'll have another baby" that can fail to comfort you or to acknowledge the importance of your baby's existence.
A tremendous void and a sense of loneliness often follow a loss. If you have a partner, your feelings may differ from his or hers in strength or content. Grief may be mixed with guilt; both can cause tension between you. You may blame yourselves and wonder if either of you did something "wrong," but this is rarely true.
Our society has few formal ways of dealing with childbearing loss. Some kind of ceremony may help recognize the significance of the loss and honor the memory of the one who died. The ceremony can be performed immediately after the loss or whenever you are ready, such as at a one-year mark.
You may find healing in creative expression - a memorial quilt, artwork, or writing about your loss. Some women choose to mark the anniversary of important days in the lost baby's life -such as the date of conception or her or his birthday -in order to acknowledge the baby's existence and place in the family.
Some of us heal by working to improve the way that women who experience childbearing loss are treated by hospitals and providers, or by creating resources on childbearing loss. As a result of such efforts, many hospitals now have bereavement teams and organize pregnancy and-infant-loss support groups. There are also a number of support organizations and books on childbearing loss -most formed or written by women with personal experience of it -that offer guidance on grieving as well as on coping during future pregnancies. One such group, Share Pregnancy & Infant Loss Support, Inc., has articulated a set of rights for parents who experience the loss of a pregnancy or a baby, for the baby, and for siblings. You may also feel moved to use your sorrow, anger, and determination to help others.
While some women cope best by trying to get pregnant again as soon as possible, other women need more time. Others may decide not to try again. There is no "right" decision; there is only a decision that feels right for you.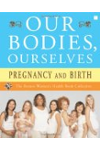 More About this Book
Our Bodies, Ourselves: Pregnancy and Birth
ALL THE INFORMATION YOU NEED TO MAKE WISE DECISIONS ABOUT YOUR PREGNANCY AND THE BIRTH OF YOUR CHILD -- FROM THE EDITORS OF THE CLASSIC "BIBLE OF WOMEN'S HEALTH" Pregnancy and birth are as ordinary...
Continue Learning about Miscarriage