Pregnancy loss is more common than most women realize. Ten percent of most pregnancies end in miscarriage. Some of these are not even diagnosed as a pregnancy as they happen so early on and mom may think she was just a little late with a very heavy period. Miscarriage is one way the body tries to eliminate a pregnancy that would not have been a good one. Mother nature tries to eliminate most pregnancies that would result in genetic defects. The most common cause of a miscarriage is a genetic defect. There are other causes like infections, low hormone levels like progesterone and uterine or cervical conditions. If you experience a miscarriage you should talk with your healthcare provider and ask all your questions. A miscarriage is not your fault and you should not blame yourself. You will need to grieve the loss of your baby and good communication with your health care provider and partner will help you through this process. It is important to deal emotionally and physically with your loss before attempting another pregnancy.
While studies into potential prevention strategies for stillbirth are ongoing, following are some helpful strategies for pregnant women to follow to help reduce the risk of stillbirth:
Begin to monitor your baby's activity at around 28 weeks. Kicks count!
Do not smoke, drink alcohol or use drugs (unless prescribed by your doctor).
Report any vaginal bleeding, leakage or sharp pain.
If you are post-term, discuss options with your doctor. Pregnancies longer than 42 weeks may be at increased risk for stillbirth.
Do not hesitate to request a second or third opinion anytime during your pregnancy if needed to put your mind at ease.
80% of miscarriages in the first trimester are caused by chromosomal abnormalities. This is a problem where the sperm and the egg come together and they do not form 23 pairs of chromosomes. The most common chromosomal abnormality seen in first-trimester miscarriages is where there are 3 chromosomes (instead of 2). Down Syndrome is a common chromosomal abnormality that causes miscarriages. This is a syndrome where there are three 21 chromosomes causing numerous genetic malformations. Other causes of miscarriages are thyroid abnormalities, clotting disorders, or low progesterone. Some patients can have intra-uterine abnormalities such as polyps, fibroids, or a septum that can cause a miscarriage.
Multiple miscarriages can be caused by numerous conditions. Patients should be screened for vaginal infections that are known to cause miscarriages (mycoplasma and ureaplasma). A patient who has had multiple miscarriages should have a procedure called a hysterosalpingogram. This is a test where dye is injected into the uterus to assess the uterine cavity and see if there are any polyps or septums that could cause a miscarriage.
As many as 10 to 15 percent of confirmed pregnancies are lost. The true percentage of pregnancy losses might even be higher as many take place before a woman even knows that she is pregnant. Most losses occur very early on—before 8 weeks. Pregnancy that ends before 20 weeks is called miscarriage. Miscarriage usually happens because of genetic problems in the fetus. Sometimes, problems with the uterus or cervix might play a role in miscarriage. Health problems, such as polycystic ovary syndrome, might also be a factor.
After 20 weeks, losing a pregnancy is called stillbirth. Stillbirth is much less common. Some reasons stillbirth occur include problems with placenta, genetic problems in the fetus, poor fetal growth, and infections. Almost half of the time, the reason for stillbirth is not known.
This answer is based on source information from the National Women's Health Information Center.
In many situations the reason for a pregnancy loss is unknown. Many lost pregnancies occur in the early weeks, that is before the end of the first trimester (12 weeks). In these situations the cause is frequently an abnormal number of chromosomes in the embryo or a problem with the uterine lining which alters or interferes with the implantation process.
Between 12 and 24 week, pregnancy loss is often related to the premature dilatation of the cervix, a developmental anomaly of the fetus or an intrauterine infection.
Most miscarriages that occur early in pregnancy are due to chromosomal abnormalities, which are genetic changes that are incompatible with survival of the pregnancy. When a patient experiences two or more miscarriages, it is important to have a recurrent pregnancy loss evaluation to determine possible treatable causes for miscarriage. Testing may include evaluation of the womb for anatomic abnormalities, hormone testing for hormonal imbalances, autoimmune testing to see if the body is rejecting the pregnancy and chromosome testing to see if the reason for the miscarriages is due to genetic changes incompatible with survival. Many of these possible causes for miscarriage can be treated with medication or surgery and the overall success rate with treatment is about 70%.
The cause of a particular miscarriage may be unknown. In many first-trimester miscarriages, though, it is believed that the cause is related to the fetus rather than any external factor. For instance, the fetal cells may have trouble dividing properly, and, so, cannot survive the pregnancy. In some second-trimester miscarriages, the cause may be linked to the mother's anatomical abnormalities or underlying health problems, an infection, or substance abuse.
You may be at increased risk for miscarriage if you're pregnant and...
have had three or more miscarriages.
are older than 35.
you smoke, drink alcohol, or use drugs.
have a poorly-managed case of diabetes or hypothyroidism.
have lupus.
have been diagnosed with an incompetent cervix or double uterus.
have had chorionic villus sampling or amniocentesis performed during this pregnancy.
You should talk to a doctor about any symptoms of miscarriage. Bleeding, a common symptom, may signify other pregnancy complications not impending miscarriage. Your doctor will also want to ask you questions and perform tests to see if a miscarriage has already occurred, is inevitable, or is not a threat. If it does seem that a miscarriage will occur, discuss with your doctor whether or not you would like medical intervention in the form of medication or surgery.
Sex has not been shown to trigger miscarriage.
There are several common causes of miscarriage:
Genetic Error - A major cause of miscarriage is an abnormality in the developing fetus resulting from genetic error. One study reports that 50-60% of all miscarriages in the first three months of pregnancy are due to chromosomal abnormalities.
Abnormal Hormone Levels - Abnormal hormone levels may cause miscarriage because the uterine lining does not develop sufficiently for the implantation and nourishment of the fertilized egg. Women with thyroid and adrenal gland problems or diabetes are at a higher risk for miscarriage due to hormonal imbalances. Elevated prolactin levels can also disrupt normal uterine lining development.
Structural Problems - Structural problems of the uterus may cause miscarriage, usually by interfering with implantation. Uterine myomas (fibroids) are non-cancerous growths in the uterine wall that can cause infertility if they block the opening of the fallopian tube(s) or if their position affects the normal functioning of the uterine lining. A septum, a fibrous wall dividing the uterine cavity, can cause poor implantation and pregnancy loss. DES exposure, resulting in a T-shaped uterus, also contributes to pregnancy loss.
Cervical Issues - Another cause of miscarriage is an incompetent cervix, meaning the cervical muscle is weak and cannot remain closed as the developing fetus reaches a certain weight and puts pressure on the cervical opening.
Infections - Infections such as German measles (rubella), herpes simplex, ureaplasma, cytomegalovirus and chlamydia can affect fetal development, and in some cases, result in miscarriage.
Environmental Factors - Toxins in the air can also result in fetal damage or miscarriage, especially if you experience regular exposure after 20 weeks of pregnancy. Studies indicate that the use of marijuana, tobacco, caffeine and alcohol all can affect fetal development and result in miscarriage. Most doctors suggest that women limit or avoid their use during pregnancy.
Immunologic Causes - Antiphospholipid antibodies can cause miscarriages. Blood tests can detect the presence of these antibodies. If present, medication that helps thin the blood may be used.
Another category of immunologic causes of miscarriage are those that prevent the woman's normal protective response to the embryo.
There are typically four broad categories of reasons why women have miscarriages:
The fetus has some kind of developmental defect or genetic abnormality that is incompatible with survival.
The woman has some kind of medical issue that diminishes the ability of the placenta to get nutrients to the baby (conditions like lupus and connective tissue disorders tend to destroy the placenta).
The woman has a hormonal imbalance that prevents the corpus luteum from successfully supporting the fetus during the first trimester.
The maternal immune system can overreact and reject the fetus—even though there are mechanisms that should prevent this from happening.
After three miscarriages, doctor will perform a full medical work-up to try to get a sense of what might be causing the mother's body to reject the fetus. They're typically on the lookout for such things as chromosomal abnormalities, diabetes, autoimmune disorders, thyroid issues, and hypertension. Infections acquired during pregnancy can also cause a bit of a resource tug-of-war in the womb, as your body tries to both fight the infection and protect the fetus.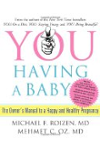 More About this Book
YOU: Having a Baby: The Owner's Manual to a Happy and Healthy Pregnancy
Can I get a cavity filled while pregnant? Will avoiding spicy foods make my kid a picky eater? Can I really increase my baby's IQ while she's in utero? Whether you're pregnant for the first time, are trying to start your family, or already have enough children to start your own basketball team, you're bound to have questions about what it means to be pregnant -- and how you can increase your odds of having a healthy and happy pregnancy. But no matter how much you've read, watched, studied, or talked about this amazing biological journey, you have never read anything like this. In this groundbreaking book, Dr. Michael Roizen and Dr. Mehmet Oz act as mythbusters for the hundreds of questions surrounding pregnancy in the same scientific, informative, and entertaining ways that have made them America's Doctors. In these pages, you'll learn everything you need to know about the miracles of fetal development, your health throughout the pregnancy, and providing the best possible environment for your growing child. Pregnancy is a complicated balancing act, but it doesn't have to be frightening. The doctors will help you de-stress as they describe accurately and rationally what happens during a thrilling nine months of life. While every pregnant body is different, odds are you'll experience some of the cravings, crying, and discomfort that almost all women go through. Your best tactic? Learn why these things are happening -- and what you should do about them. YOU: Having a Baby will teach you everything you need to know about what to eat (should I be eating for two?), how much to exercise, and what guilty pleasures will actually make pregnancy easier on you (and the loved ones who get to be around you for the whole thing). Each phase of pregnancy has different challenges, but the right information will prepare you for what's ahead. The interactive week-by-week calendar inside provides an even more detailed guideline for how and what you should feel through every step of the process. Exciting, cutting-edge scientific research in the fi eld of epigenetics has changed the way the medical profession looks at pregnancy, and now it can change your perspective, too. Epigenetics explores what makes us develop in certain ways -- why some people thrive at math while others are prone to chronic diseases. It turns out that there are easy things you can do that will not just help your baby's development in utero but will actually improve his or her chances of living a healthy, fulfi lling adult life. Filled with recipes for nutritious, satisfying snacks and meals even Pop can cook (yes, he can!), safe exercises for staying fit, and tons of YOU tips that will help you stay comfortable, YOU: Having a Baby is the ultimate guidebook for what to do from the moment of conception to the weeks after your child has arrived home. From morning sickness and food cravings to choosing a doctor and changing a diaper, YOU: Having a Baby will give you the real scoop about what's in store for you during this amazing time in your life.
What can lead to a miscarriage? There are a number of factors that increase the risk of losing a pregnancy. Obstetrician and gynecologist Evelyn Minaya, M.D., discusses three of the most common ones in this video.
Continue Learning about Miscarriage Causes & Risk Factors