The absorption of zinc is enhanced by animal protein. Eating a vegetarian diet means that you lose out on this benefit and are more likely to develop a deficiency. Phytate also binds zinc, making it unavailable to your body. For these reasons a vegan's zinc needs may be as much as 50 percent higher than a nonvegetarian's.

These foods are good sources of zinc: Soybeans, soy milk, tofu, tempeh, fortified soy burgers, legumes, nuts, sunflower seeds, wheat germ, fortified ready-to-eat cereals, and mushrooms.
A vegetarian diet can provide adequate zinc as long as it is well planned. Good vegetarian sources of zinc are: Grains, legumes, soy foods, nuts and seeds.
1 cup bran flakes provides 5mg,
2 Tbsp wheat germ 2.3mg,
1/2 cup cooked Adzuki beans 2mg,
tempeh 1.5mg,
1 oz Pecans 1.55mg,
1 oz sesame seeds 2.9mg
The Recommended Dietary Allowance for zinc varies from 10-15mg for children to adults with an increase to ~19mg for the first 6 months of pregnancy.
Although little is known regarding the zinc status of vegetarian athletes, there may be cause for concern since the absorption of zinc from plant foods is somewhat lower than from animal products. Vegetarian sources of zinc include legumes, hard cheeses, whole grain products, wheat germ, fortified cereals, nuts, tofu and miso.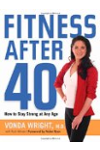 More About this Book
Fitness After 40: How to Stay Strong at Any Age
It's one of the undeniable facts of life. After we reach a certain age, our bodies change. No matter how fit we may have been at 20, we're very different people after 40. But growing older doesn't...
Continue Learning about Minerals