Some vegetables and grains contain substances that undermine calcium absorption. For example, the oxalic acid in spinach and rhubarb combines with the calcium in these plants so that it isn't readily absorbed. Insoluble fiber, such as that in wheat bran, also reduces calcium absorption, but soluble fiber, such as that in fruit pectins, does not affect calcium absorption. To further complicate matters, there is no easy equation for determining how much of the calcium content of a fruit or vegetable is actually absorbed.
Be mindful that some foods have substances in them that can interfere with calcium absorption in the body. The oxalates in spinach and the phytates in legumes and some whole grains, for example, bind to calcium and prevent the body from using it efficiently. So be careful to avoid eating spinach, legumes, and whole grains in the same meal as the calcium-rich foods, or at the same time that you take your calcium supplements.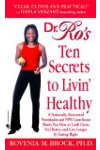 More About this Book
Dr. Ro's Ten Secrets to Livin' Healthy
In this one-of-a-kind book, Dr. Rovenia M. Brock—known as Dr. Ro™ to fans of Black Entertainment Television's Heart & Soul—reveals practical, satisfying ways for African American women to eat...
Continue Learning about Minerals