What dairy products contain potassium?
Nonfat and skim milk and yogurt are excellent sources of potassium (see below).
While the current recommendation is for healthy Americans to consume 4,700 milligrams of potassium daily, males are consuming only 3,200 milligrams daily, whereas females fall even shorter, consuming only 2,400 milligrams a day, on average. The good news is that potassium is found in a variety of foods, with vegetables, fruits, low fat dairy foods, and beans being potassium powerhouses:
Potato, baked including skin, small, 738 mg
White beans, ½ cup, 595 mg
Yogurt, nonfat, plain, 579 mg
Sweet Potato, baked with skin, medium, 542 mg
Orange juice, 1 cup, 496 mg
Halibut, cooked, 3 ounces, 490 mg
Soybeans, cooked, ½ cup, 485 mg
Cod, cooked, 3 ounces, 439 mg
Banana, 1 medium, 422 mg
Spinach, cooked, ½ cup, 370-419 mg
Tomato sauce, ½ cup, 405 mg
Milk, skim, 1 cup, 382 mg
Apricots, dried, ¼ cup, 378 mg
Soy milk, 1 cup, 372 mg
Kidney beans, cooked, ½ cup, 358 mg
Continue Learning about Minerals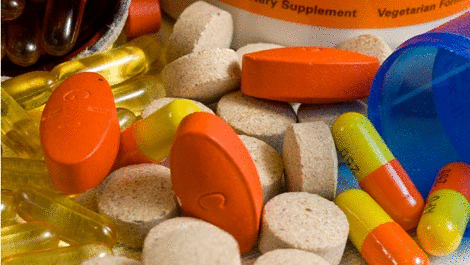 Our bodies need some inorganic substances like iron, calcium and chromium for proper health. If you're not getting enough of a particular mineral, there are a wide array of mineral supplements available. Often it is not as easy to ...
take in or absorb minerals by themselves, so look for recommendations about taking supplements with a meal or seeing how supplements are frequently combined -- like calcium with vitamin D.
More