In most cases, vegetarian athletes can achieve proper iron status without iron supplementation, according to the Vegetarian Nutrition Dietetic Practice Group of the ADA. However, vegetarians need to be educated about plant sources of iron and factors that enhance and interfere with iron absorption. For example, an athlete who consumes beans at lunch while drinking milk or tea could be advised to replace this beverage with citrus fruit juice to enhance iron absorption at that meal. In some cases, vegetarian athletes may temporarily require supplements to build up or maintain iron stores. Athletes taking iron supplements should have their iron status monitored because of the potential association between iron status and chronic disease.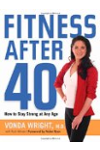 More About this Book
Fitness After 40: How to Stay Strong at Any Age
It's one of the undeniable facts of life. After we reach a certain age, our bodies change. No matter how fit we may have been at 20, we're very different people after 40. But growing older doesn't...
Like the other respondents mentioned, the pairing of certain foods is particularly important when it comes to iron absorption for vegetarians. So the key is to combine your iron-containing foods (which include spinach, broccoli, tofu, refried beans, prune juice, dates and raisins, and eggs if they are a part of your vegetarian diet) with vitamin C-rich foods. Examples of these pairings: orange juice with iron-enriched cereals, tomato on your sandwich, mandarin orange wedges in a spinach salad. Note that menstruating female vegetarian athletes are particularly at risk of iron deficiency due to monthly losses. You can figure out what the recommended daily allowance of iron is for your age and gender by looking at Table 3, here: http://ods.od.nih.gov/pdf/factsheets/iron.pdf
Other Tips:
Use a cast-iron skillet when cooking: the iron content of foods is usually increased when cooked in a cast-iron skillet.
Choose iron-enriched cereals: select a cereal brand that provides at least 25% of the daily value for iron, which you will find on the right-hand column on the nutrition facts label.
Don't drink coffee or tea with meals: if you're an athlete that regularly drinks coffee, be mindful that coffee consumed with a high-iron food can reduce the iron absorption capacity by roughly 40%. To avoid this, drink coffee at least one hour before your meal.
Vegetarian diets can provide adequate iron to meet the needs of athletes. The usual concern when it comes to plant sources of iron is that it is in the non-heme form and this might not be as easily available to the body. To compensate for this and to allow a greater absorption of iron from plant sources enjoy it with vitamin C rich foods. Good plant sources of iron include dark green leafy vegetables, spinach, legumes, soy foods, lentils.
Sports dietitians agree that athletes consuming a vegetarian diet can keep their competitive edge -- with careful planning. Iron is a critical nutrient for athletes, because it carries oxygen to working muscles.
Iron-rich foods include:
fortified cereals
enriched grains, pasta, bread
oatmeal
nuts
sunflower seeds
soybeans
dried fruits Continue Learning about Minerals