Most of us can get the iron we need in the foods we eat, which contain 2 kinds of dietary iron: heme and non-heme.
Heme iron is derived from hemoglobin, the protein in red blood cells that delivers oxygen to cells. Red meat, poultry, eggs, and fish are rich in hemoglobin. And if you like liver, you're in luck! A 3.4 ounce serving of chicken liver contains 12.8 mg of iron, a walloping 70% of your daily value. Oysters, clams, and sardines are other iron-containing powerhouses.
Non-heme iron is found in plant-based foods: legumes like lentils; enriched or whole grains and cereals; nuts and seeds; and potatoes. Don't overlook Popeye the Sailor Man's strong-to-the-finish favorite -- spinach; a half-cup serving of this leafy green contains 3.2 mg of iron, 20% of your daily value. Non-heme iron sources are best absorbed when consumed at the same time as foods high in vitamin C. So have a glass of OJ with that tofu burger or a handful of strawberries for dessert.
Besides eating iron-rich and iron-fortified foods, you can pump up the trace amounts of iron in your diet by cooking foods in good, old-fashioned cast-iron pans.
This content originally appeared on
doctoroz.com
It must be pointed out that there are two forms of dietary iron, "heme" iron and "nonheme" iron. Heme iron is iron that is bound to hemoglobin and myoglobin. It is found in animal products and is the most efficiently absorbed form of iron. Nonheme iron is found in plant foods. Compared to heme iron, it is poorly absorbed.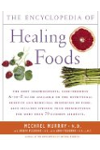 More About this Book
Encyclopedia of Healing Foods
From the bestselling authors of The Encyclopedia of Natural Medicine, the most comprehensive and practical guide available to the nutritional benefits and medicinal properties of virtually everything...
There are two forms of dietary iron: non-heme iron, found in vegetarian foods (i.e., whole grains, fortified breakfast cereals and legumes), and heme-iron, found in animal-based foods (red meats, fish and poultry).

The body absorbs only 2-20% of non­heme iron. Other compounds found in plant­based foods, as well as some minerals (e.g., calcium), affect absorption of non­heme iron.

We absorb approximately 15­35% of the heme iron we eat. Compounds naturally found in foods or other minerals don't impact heme iron absorption.
Continue Learning about Minerals