Iodine is a trace element required for the synthesis of thyroid hormones, which regulate growth, development, metabolism and reproduction. Prevalent in underdeveloped countries, iodine deficiency is typified by a goiter (enlarged thyroid gland). Deficiency during pregnancy is the most common cause of retardation globally.

The amount of iodine in fruits, vegetables and legumes largely depends on the iodine content of the soil in which they are grown, which makes consistent measurements difficult. The iodine content in seafood depends on its environment as well, because fish, crustaceans and seaweed absorb iodine from salt water.

The average American's intake of iodine is roughly 300 micrograms—double the RDA. In some regions of Japan, where seaweed is a dietary staple, intakes can range up to 80,000 micrograms per day. But even these levels are below the gram quantities that would induce acute iodine toxicity.
The thyroid gland adds iodine to the amino acid tyrosine to create thyroid hormones. A deficiency of iodine results in the development of an enlarged thyroid gland, commonly referred to as a goiter. When the iodine level in the diet and blood is low, the cells of the thyroid gland enlarge to produce more iodine, and eventually the entire gland at the base of the neck becomes swollen. Goiters are estimated to affect more than 200 million people the world over. In all but 4 percent of these cases, the goiter is caused by iodine deficiency. Due to the addition of iodine to table salt, iodine deficiency is now quite rare in the U.S. and other industrialized countries. Adding iodine to table salt began in Michigan, where, in 1924, the goiter rate was an incredible 47 percent.

Few people in the U.S. are now considered iodine-deficient, yet the rate of goiter is still relatively high (5 to 6 percent) in certain high-risk areas (the so-called goiter belt of the mid western and Great Lakes states). The goiters in these populations are probably a result of the excessive ingestion of foods that block iodine utilization. These foods, known as goitrogens, include cabbage, cassava root, millet, mustard, peanuts, pine nuts, soybeans, and turnips. Cooking usually inactivates goitrogens.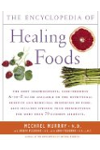 More About this Book
Encyclopedia of Healing Foods
From the bestselling authors of The Encyclopedia of Natural Medicine, the most comprehensive and practical guide available to the nutritional benefits and medicinal properties of virtually everything...
Continue Learning about Minerals