Copper plays a critical role in the body's health and in every organ system; it's antioxidant, anti-inflammatory and promotes heart health and healing. Watch as I explain the benefits of copper to our overall health.
Copper functions as an important factor in the manufacture of hemoglobin; collagen structures, particularly joints and arteries; and energy. Copper deficiency is characterized by anemia, fatigue, poor wound healing, elevated cholesterol levels, and poor immune function. Since a deficiency of copper produces a marked elevation of cholesterol, copper deficiency has been suggested to play a major role in the development of atherosclerosis. There is additional evidence to support this as recent surveys indicate that less than 25 percent of Americans appear to meet the RDA of 2 mg of copper.

However, there is also evidence that because of copper-lined water pipes, many Americans are getting too much copper in their diets. Excessive copper levels have been linked to schizophrenia, learning disabilities, premenstrual syndrome, and anxiety. Many of the problems caused by copper can be offset by zinc because zinc and copper compete for absorption sites. If there is too much zinc, copper absorption will be decreased and vice versa. In nature, foods rich in copper are even higher in zinc. Nuts and legumes are a good example of this.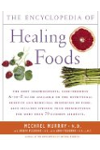 More About this Book
Encyclopedia of Healing Foods
From the bestselling authors of The Encyclopedia of Natural Medicine, the most comprehensive and practical guide available to the nutritional benefits and medicinal properties of virtually everything...
Continue Learning about Minerals