Chromium is a trace mineral required in minute quantities for glucose metabolism. Its role in regulating insulin helps normalize blood sugar levels, which may help keep appetite in check. In one study, men with higher chromium intakes were found to have lower blood sugar and improved insulin resistance than those with lower chromium intakes -- which is consistent with the link various studies have found between low chromium intake and diabetes and cardiovascular disease.

Chromium supplements are often advertised as fat-burning and muscle-building, but several studies have found that they have no such effect, and supplement companies have lost lawsuits for failing to supply scientific evidence for such claims. In fact, one study showed that chromium picolinate, the supplemental source of chromium, actually damages animal DNA.
Chromium functions in the "glucose tolerance factor," a critical enzyme system involved in blood sugar regulation. A lack, as well as an excess, of blood sugar (glucose) in the body can be devastating. For this reason, the body strives to maintain blood sugar levels within a narrow range with the help of hormones, such as insulin and glucagon.

Considerable evidence now indicates that chromium levels are a major determinant of insulin sensitivity. If chromium levels are low, blood sugar levels may remain high due to a lack of sensitivity to insulin. Insulin promotes the absorption and utilization of glucose by the cells. Insulin insensitivity is a classic feature in obesity and diabetes.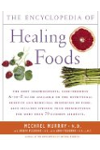 More About this Book
Encyclopedia of Healing Foods
From the bestselling authors of The Encyclopedia of Natural Medicine, the most comprehensive and practical guide available to the nutritional benefits and medicinal properties of virtually everything...
Continue Learning about Minerals