Getting enough but not too much of the trace mineral zinc is a bit of a high-wire act. The Recommended Dietary Allowance (RDA) for zinc is 8 mg for women and 11 mg for men. The Institute of Medicine (IOM) lists the tolerable upper intake level (UL) for zinc as 40 mg for women and men. Yet levels not much higher than 15 mg can trigger side effects, such as a depressed immune system, poor healing, hair loss, and interference with the ability to taste and smell. That's why some experts suggest that it's best to get zinc from food sources rather than supplements. At the very least, make sure that your multivitamin provides no more than 15 mg of zinc.

Your overall diet affects how much zinc your body typically absorbs from food. Interestingly, you are likely to absorb less zinc if you choose a diet rich in healthy whole grains and with very little animal protein. Most North Americans probably absorb about 38% of available dietary zinc.
Optimal zinc levels must be attained if optimal health is desired. Although severe zinc deficiency is quite rare in this country, many individuals consume a diet that is low in zinc.

The RDA is 15 mg for men and 12 mg for women. In addition to oysters, zinc is found in good amounts in seeds, nuts, legumes, and whole grains.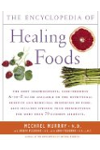 More About this Book
Encyclopedia of Healing Foods
From the bestselling authors of The Encyclopedia of Natural Medicine, the most comprehensive and practical guide available to the nutritional benefits and medicinal properties of virtually everything...
Continue Learning about Minerals