The RDA for iodine for adults is quite small, 150 micro grams. Seafood, including clams, and seaweeds, such as kelp, are nature's richest sources of iodine. However, in the U.S., the majority of iodine is derived from the use of iodized salt, which contains 70 micro grams of iodine per gram of salt. Sea salt, in comparison, has little iodine. Due to the high salt intake in the U.S., the average intake of iodine is estimated to be more than 600 micro grams per day.

However, too much iodine can actually inhibit thyroid gland synthesis. For this reason, and because the only function of iodine in the body is thyroid hormone synthesis, it is recommended that dietary levels or supplementation of iodine not exceed 1 mg (1,000 micro grams) per day for any length of time.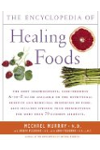 More About this Book
Encyclopedia of Healing Foods
From the bestselling authors of The Encyclopedia of Natural Medicine, the most comprehensive and practical guide available to the nutritional benefits and medicinal properties of virtually everything...
Continue Learning about Minerals