Low manganese levels have been linked to epilepsy. This link was first suggested in 1963, when it was observed that manganese-deficient rats were more susceptible to seizures than manganese replete animals, and that manganese-deficient animals exhibited epileptic-like brain wave tracings. This prompted researchers to look at manganese concentrations in epileptics. Low whole blood and hair manganese levels have been found in epileptics, and those with the lowest levels typically have the highest seizure activity. Manganese plays a significant role in cerebral function as it is a critical metal for glucose utilization within the neuron, adenylate cyclase activity, and neurotransmitter control. For optimal central nervous system function, proper manganese levels must be maintained.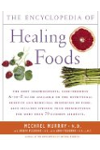 More About this Book
Encyclopedia of Healing Foods
From the bestselling authors of The Encyclopedia of Natural Medicine, the most comprehensive and practical guide available to the nutritional benefits and medicinal properties of virtually everything...
Continue Learning about Minerals