Minerals are classified into two categories: major and minor. This classification is determined by the amount of the mineral needed by the body, not by how essential it is for good health. If a mineral is required at a level greater than 100 mg per day, it is considered to be a major mineral.
Major Minerals:
Calcium
Phosphorus
Potassium
Sulfur
Sodium
Chloride
Magnesium
Minor (Trace)Minerals:
Zinc
Iron
Manganese
Copper
Boron
Silicon
Molybdenum
Vanadium
Chromium
Selenium
Iodine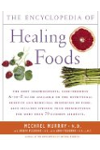 More About this Book
Encyclopedia of Healing Foods
From the bestselling authors of The Encyclopedia of Natural Medicine, the most comprehensive and practical guide available to the nutritional benefits and medicinal properties of virtually everything...
Continue Learning about Minerals