Since plants incorporate minerals from the soil into their own tissues, fruits, vegetables, grains, legumes, nuts, and seeds are often excellent sources of minerals. The minerals, as they are found in the earth, are inorganic. However in plants, most minerals are complexed with organic molecules. This usually means better mineral absorption, but there are some plant compounds, such as phytates and tannins, that bind minerals so tightly that they cannot be absorbed.

For this reason, juicing is thought to provide even better mineral absorption compared to the intact fruit or vegetable because juicing liberates the minerals into a highly bio-available medium and separates the minerals from some of the fiber constituents, which can interfere with absorption. The green leafy vegetables are the best sources of many of the minerals, especially calcium, and this source is made more available by juicing.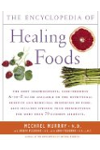 More About this Book
Encyclopedia of Healing Foods
From the bestselling authors of The Encyclopedia of Natural Medicine, the most comprehensive and practical guide available to the nutritional benefits and medicinal properties of virtually everything...
Continue Learning about Minerals