Zinc is a component of more than two hundred enzymes in our bodies. In fact, zinc functions in more enzymatic reactions than any other mineral. Although severe zinc deficiency is very rare in developed countries, many individuals in the U.S. have marginal zinc deficiency. This is particularly true in the elderly population. Marginal zinc deficiency may be reflected by an increased susceptibility to infection, poor wound healing, a decreased sense of taste or smell, low sperm count, prostate enlargement, or skin disorders.

Zinc deficiency results in impaired functioning of the special senses, and night blindness is often due to a zinc deficiency. The loss of the sense of taste and/or smell is a common complaint in the elderly. Zinc supplementation has been shown to improve taste and/or smell acuity in some individuals. Zinc may be critical to healthy male sex hormone and prostate function, as well. Male infertility may be caused by a decreased sperm count due to zinc deficiency, and zinc supplementation may increase sperm count and motility, particularly in men with low testosterone. Zinc deficiency may be a contributing factor in the high rate of prostate enlargement in this country. It is estimated that 50 to 60 percent of the men between the ages of 40 and 59 have prostate enlargement. Zinc supplementation has been shown to reduce the size of the prostate in the majority of the patients.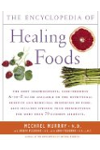 More About this Book
Encyclopedia of Healing Foods
From the bestselling authors of The Encyclopedia of Natural Medicine, the most comprehensive and practical guide available to the nutritional benefits and medicinal properties of virtually everything...
Continue Learning about Minerals