Chromium is a nutrient that plays an important role in helping the body use insulin more efficiently, which in turn can help control blood sugar levels. Although it is popular as a supplement to improve blood sugar control in people who have prediabetes, type 1 diabetes or type 2 diabetes. The research is still in its early stages, and there's not yet proof that it helps treat high blood sugar.
Chromium is essential to enhancing the way insulin works in your body, so you'd think that supplementing with it might be a good idea. But in most studies, supplements did nothing for blood sugar. Indeed, the Food and Drug Administration has concluded that the relationship between chromium supplements and insulin resistance or type 2 diabetes is "highly uncertain." Your best strategy is to eat a varied diet, as small amounts of chromium are contained in many different types of foods. Recommended levels of the mineral are 25 micrograms (mcg) for women and 35 mcg for men up until age 50; 20 mcg for women and 30 mcg for men age 50 and above.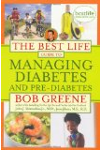 You can take chromium supplements to temper the effects of diabetes. Taking chromium polynicotinate daily may improve how insulin works in your body, going so far as to bring prediabetics—people in the 100-125 blood sugar range—back down to healthy levels.
This content originally appeared on doctoroz.com.
Continue Learning about Minerals