If you are a Lacto-vegetarian, dairy products would adequately provide calcium. If you are vegan (avoid all animal products including dairy, eggs, fish), calcium-fortified plant-based beverages such as soy milk, almond milk, rice milk, calcium-fortified orange juice, blackstrap molasses, tofu, collard/turnip greens, bokchoy, broccoli are all good sources of calcium. You can adequately meet your calcium needs on a vegetarian diet if well-planned and balanced.
Low calcium intake has been associated with an increased risk of stress fractures and low bone density, particularly in female athletes who are not menstruating. The major source of calcium in Western diets is generally milk and dairy products. Vegans can obtain adequate calcium from plant foods. Good sources include tofu, leafy green vegetables, watercress, dried fruits, seeds, and nuts. Also, white bread is fortified with calcium, as are some soy milks. Hard water can also provide significant amounts of calcium.

Recommendations for active vegetarian men and premenopausal women are not different from the general RDA for adults, which is 800 mg. Calcium intake, however, is one of many factors associated with calcium balance and accounts for only 11 percent of its variation. Urinary calcium excretion, on the other hand, accounts for 51 percent of the variation in calcium balance and is influenced by dietary protein, sodium, and possibly phosphoric acid intakes. There is evidence to suggest that vegans (and possibly vegetarians who consume little dairy) may have lower calcium requirements because of their lower intakes of animal protein, total protein, and sodium, which increase kidney calcium excretion. However, until more is known about calcium requirements in this group, it is prudent that all athletes meet the RDA for calcium.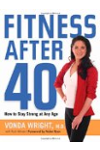 More About this Book
Fitness After 40: How to Stay Strong at Any Age
It's one of the undeniable facts of life. After we reach a certain age, our bodies change. No matter how fit we may have been at 20, we're very different people after 40. But growing older doesn't...
Calcium is abundant in lean dairy foods such as nonfat or low-fat milk, yogurt, and cheese, so obtaining adequate amounts shouldn't be difficult if you consume these foods. Calcium-fortified soy milk, yogurt, cheese, and orange juice as well as tofu can provide about the same amount of calcium per serving as is found in dairy foods. Other food sources include: legumes, sesame tahini, tofu processed with calcium, bok choy, broccoli, kale, collard greens, mustard greens, and okra. Continue Learning about Minerals