Phosphorus, in the form of calcium phosphate, forms much of the structural component of bones and teeth, and, in the form of phospholipids, of cell membranes. Studies have linked low dietary intake of phosphorus with osteoporosis. But, while an estimated 40 percent of young women do not get enough phosphorus, deficiency symptoms -- including anemia, muscle weakness and bone pain -- are only observed in instances of near starvation.

Phosphorus is essential for pH balance (i.e., the level of acidity in the body). Phosphorus regulates pH balance by soaking up or freeing particular molecules that can tip the scales toward acidity or alkalinity.
Phosphorus is one of the most essential minerals, as it ranks second only to calcium in total body content. About 80 percent of the phosphorus in the human body occurs as calcium phosphate crystals in bones and teeth. However, phosphorus participates in many other body functions, including energy metabolism, DNA synthesis, and calcium absorption and utilization.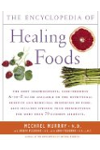 More About this Book
Encyclopedia of Healing Foods
From the bestselling authors of The Encyclopedia of Natural Medicine, the most comprehensive and practical guide available to the nutritional benefits and medicinal properties of virtually everything...
Continue Learning about Phosphorus