Here are 10 tips for practicing mindfulness:
Use the following five steps to practice mindfulness: choose something to focus on; begin to focus; notice when your attention wanders; nonjudgmentally bring your attention back to the present; repeat steps three and four over and over again.
Mindfulness isn't only about focusing, or concentrating; it's also about accepting and acknowledging whatever happens to come into your awareness.
If you have difficulties beginning to develop a mindfulness practice, start by practicing activities that are easy for you to engage in.
Keep in mind that mindfulness isn't just about staying focused; it's about returning to the present when you notice you've wandered.
Keep your eyes open as much as possible; you will be less likely to wander and more likely to live your life mindfully.
The only goal with mindfulness is for you to be in the present moment more often, so when you hear yourself saying that "it's not working," review your expectations and revise them.
Use mental noting (or witnessing) of your experience to help you accept or acknowledge whatever happens to come to your awareness.
Even if it's sometimes difficult to find time for formal practice, make sure that you practice formally as well as informally. You will benefit most from doing both.
The more time you spend in the present rather than in the past or the future, the less emotional pain you will have in your life.
Live your life more mindfully.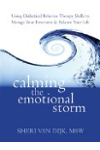 Continue Learning about Mind-Body Therapies