Higher-level thinking is a more advanced form of self-awareness that helps you clear negative emotions, traumas, and limiting beliefs by engaging your unconscious mind in a dialogue, and then using nonjudgmental awareness to uncover the emotion, trauma, or belief that has been trapped in your body. There are seven steps in higher-level thinking:
1. Relax yourself physically and mentally.
2. Place nonjudgmental awareness on the problem.
3. Conduct a self-dialogue, using these four starter questions:
"I wonder why (this problem) is occurring?"
"What is (this problem) I'm having an example of?"
"Why is this happening?" Or, put another way, "What is the higher purpose in my having
(this problem)?"
"What belief would I have to have in order to create (this problem)?"
4. Place light, nonjudgmental awareness on the affected area to see what negative emotions, traumatic memories, or limiting beliefs might be buried there that you have been trying not to feel.
5. Place nonjudgmental awareness on the uncovered emotion or trauma.
6. Feel the feeling, or the truth, of the emotion.
7. Let it go.
The centerpiece of this technique is the self-dialogue. Ideally, it should be a free-flowing give-and-take between your conscious and unconscious minds. As such, it is a conversation that is quite specific to each person and his or her problem(s), and thus, it's not possible to offer a standard "script" that every person can use. The four starter questions offered here, however, are the best that we've found to prompt that dialogue. The most effective approach is simply to practice the technique to become familiar with how to ask questions and how your unconscious mind responds (for example, an inner voice, a physical twinge, a sudden image). Begin the dialogue with one or more of the starter questions - or a question of your own that you derive from those questions - and go with the answers you get. Then pose follow-up questions that move you closer to the negative emotion, traumatic memory, or limiting belief that may be held in your body.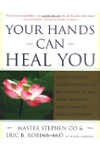 Continue Learning about Mind-Body Therapies