The six steps are:
1. Clearing negative emotions and limiting beliefs - This includes several techniques for removing negative emotions, fears, traumatic memories, phobias, anxieties, and limiting beliefs from the body, where they block the flow of prana. They must be cleared in order to restore the body's energetic balance.
2. Pranic breathing - Pranic breathing is an optimal breathing technique that promotes physiological and energetic health benefits, including improved circulation, reduced strain on your heart, an enhanced immune system, and most important, the ability to draw in greater amounts of prana to be used for general energizing and specific self-healing.
3. Energy manipulation - These are three unique Pranic Healing techniques. They include scanning, the method by which you use your hands to feel for energetic imbalances; sweeping, the technique for manually cleaning away dirty or congested prana; and energizing, the process of drawing in prana and supplementing depleted areas.
4. Energetic hygiene - This is the practice of keeping your energy body as clean and charged up as possible through emotional regulation, dietary recommendations, special physical exercises, breathing practices, meditation, an energetically clean home and work environment, and the appropriate use of salt as a cleansing remedy.
5. Meditation - Meditation helps still your mind, calm your body, and increase your flow of healing, cleansing energy. Two meditations are included in the book Your Hands Can Heal You. One is a mindfulness meditation; the other is Grandmaster Choa's "Meditation on Twin Hearts," a powerful meditation on peace and loving kindness.
6. Energy-generation exercises - These two powerful routines, the modified Tibetan Yogic Exercises and the modified Mentalphysics Exercises, enable you to draw in and generate great quantities of high-quality prana.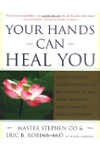 Continue Learning about Mind-Body Therapies