Chinese Medicine and Anti-Aging Specialist Dr. Maoshing Ni explains what Chi-gong is. Watch Dr. Mao's video for tips and information on overall wellness and anti-aging.
Chi gong can help those who have trouble sleeping. In this video, Dr. Oz Show guest Karl Romaine reveals some simple chi gong techniques for relaxing before sleep.


Chi-gong, an activity that looks like slow-mo martial arts, can not only help improve your physical well-being but can serve as a mind-clearing exercise. This slow, gentle series of movements can help reduce the noise and is especially great if you have aches and pains that hold you back from your normal routine.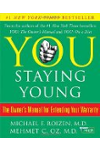 Continue Learning about Mind-Body Therapies