Qigong is an ancient Chinese practice that creates health by balancing the chi, or vital energy, in your body. Qigong is about discovering one's true balance.

Studies at Stanford have shown that cancer patient participants are more relaxed, feel less stressed and fatigued, and experience a greater sense of well-being.

Kaiser Permanente, the largest health maintenance organization (HMO) in the country, offers Qigong to their patients. They report they began Qigong with their chronic pain patients and had such great results they are now providing these classes for all health care plan members.

Qigong, like acupuncture, uses a system of internal pathways called meridians, which run through the body. Your chi, or vital energy, can become stagnant or blocked within these pathways and Qigong makes your chi flow and restores balance in your body. When your chi is blocked or stagnant you get sluggish, slow and can experience illness.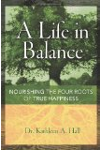 Qigong (Ch'i Kung), and similar practices such as Dao Yin and Taiji (T'ai Chi) have been used in China and other parts of Asia for thousands of years to promote health. What characterizes these exercises are what are called the "Three Regulations": regulating the body, regulating the breath, and regulating the mind-intention.
A study recently published (2010) article in the American Journal of Health Promotion identified many benefits of Qigong and Taiji practice, such as improved bone density, cardiopulmonary effects, improved physical function, and better balance and fall reduction (for example in the elderly).
Continue Learning about Mind-Body Therapies