Remember the last time you were on vacation and it embodied every definition of that word? You can go there any time you like -- and reap the relaxing rewards -- using your imagination. All it takes is a quiet spot, an easy chair or place to lie down, and 10 to 15 uninterrupted minutes. Eyes closed, bring to your mind an image of the place where you felt peaceful and happy. Now scan the scene from top to bottom, left to right and "see" little details -- the way the sun reflected off the water or the appearance of a decadent dinner. What sounds did you hear? How did the air smell? Relive as many things as you can. Feel the pure pleasure of being in that space and time. You'll soon feel as relaxed as if you'd actually been there. You can then open your eyes and be prepared to maximize your time and energy better.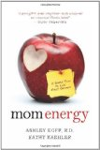 More About this Book
Mom Energy: A Simple Plan to Live Fully Charged
       From celebrated dietitian Ashley Koff and fitness trainer to the stars Kathy Kaehler comes Mom Energy, an exciting new way for moms to tap into their own natural and renewable sources of...
Continue Learning about Mind-Body Therapies