You'll be more likely to continue practicing mindfulness if you start with something that isn't extremely difficult for you. Think of an activity that you find fairly easy to focus on, something that holds your attention and you can really get engaged in. Perhaps it's reading or watching television, or it could be something more active, like knitting a difficult pattern, hiking, or playing a sport. Whatever it is, if it holds your attention and engages you, that's half the battle. The other half of the battle, of course, is not judging whatever your experience is as you're engaged in this activity. And as it gets easier for you to do this activity mindfully, of course, you will need to work your way to other activities. Remember that you want to live your life more mindfully, so you can't just stick to one activity because it's easier.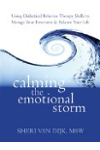 To practice living mindfully, set aside times each day when you consciously stop and focus on what's going on at that moment. (Some good times: while you're waiting for your train to work in the morning, before each meal, when you arrive at and depart from work, or when you're nursing a baby.) Take a few breaths and center yourself. Notice what's going on around you. Use all of your senses. By doing so, you begin to build a habit of appreciating what's going on in the present moment.

One of the best ways to learn to be mindful is to take a dog for a walk. Dogs are always in the moment. They can take the same walk every day for ten years and still experience grass in an entirely new way each day. They're not worried about the past ("Why didn't my people give me some of that chicken they had for dinner?") or the future ("I wonder if my people will give me any chicken when we get home?"). All they think about is what's right in front of them: the smell of the grass, the basset hound in the yard next door, and the squirrel in the tree across the street.

Practice your mindfulness skills the next time you eat at a nice restaurant. Focus on the delicious smell of food, the elegant décor, the taste of the wine, the sounds of satisfied diners around you, the feel of your partner's hand in yours. You can do anything mindfully.

Mindful walking is a wonderful way to practice mindfulness. To do a mindful walk, go outdoors and walk slowly, fully experiencing the sensations of walking one step at a time. While you walk, let your senses take over. Smell the aroma of grass and trees; notice the houses you pass and the people you see; really listen to the sounds of birds chirping, dogs barking, lawnmowers buzzing, or in winter the sound of snow crunching under your boots. If you walk in the city, be aware of the sounds of cars and buses, the smell of restaurants you pass, and the faces of the people you see. Try to stay present. When other thoughts enter your mind, gently acknowledge them and then let them go as you bring yourself back to the present moment. After your walk, try to carry that mindfulness with you for the rest of the day.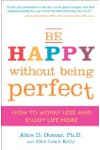 Continue Learning about Mind-Body Therapies