Mindfulness is an important part of reality acceptance, since you have to be aware of your fighting-reality thoughts as they arise in order to work on reaching for acceptance. The following exercise will specifically help you to turn your thoughts toward accepting reality:

Sit and simply allow yourself to become aware of what arises, and sense what is asking for acceptance.

You'll know what is asking for acceptance because it will be something that continues to repeat itself, a pattern. Perhaps, for example, you notice your thoughts continuing to return to a situation or person; or perhaps a feeling continuously comes up for you. When these patterns emerge, these are the things that are asking to be accepted. These patterns remain because, on some level, we continue to resist them; we feel a fear or an aversion toward them, or perhaps we're judging this experience.

To release these patterns you're stuck in, you must acknowledge what is present and ask yourself, "What is my experience?" Do you want it to change? Is there a difficult emotion, thought, sensation, or other experience that you are blocking, or that you want to be over or to go away? Is there some kind of attachment or some fear? In other words, explore within yourself why you're stuck in this pattern; when you can develop an understanding of this, you can work on letting it go, which is acceptance.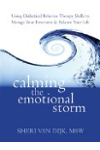 Continue Learning about Mind-Body Therapies