Although relaxation is not the goal of mindfulness, people often find that mindfulness does have a relaxing or calming effect. Here are a few possible explanations for this:
Living in the present moment rather than in the past or the future results in fewer painful emotions. Having less emotional pain in your life on a regular basis will result in a calmer or more relaxed experience.
Doing one thing at a time with your full attention is likely in direct contrast to how you generally live your life. Most people find that when they stop multitasking, they feel calmer and less overwhelmed.
Once people start practicing mindfulness, they often find themselves focusing on pleasant activities that they never paid much attention to before, like listening to the birds, petting their dog, walking, and doing breathing exercises. These activities are calming, if you're really paying attention to them as you do them.
Being less judgmental of yourself and of the people and things around you will also have a calming effect. You will experience more feelings of peace when you focus on accepting things as they are rather than feeling anger and other painful emotions because things aren't how you'd like them to be.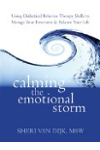 Continue Learning about Mind-Body Therapies