Some yoga poses can help with cleansing the body via stimulation of digestion, relaxation of the diaphragm, and detoxification of the liver. To find out more information on cleansing exercises, contact a yoga practitioner that specializes in cleansing techniques.
Sit in a comfortable chair.
Inhale deeply through the nose.
Exhale through a puckered mouth, shaped like an "o" as if you were blowing out a candle.
Repeat three times.
Let out a few deep sighs.
Repeat steps two through four, remembering to drop your shoulders.
Visualize yourself letting the air out of a tire.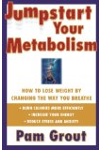 Continue Learning about Mind/Body Exercise