My regular practice of yoga has taught me the power of breathing: observing it, slowing it, controlling it (along with my stress reactions). Our teacher, never tires of repeating that "we can survive weeks without food, days without water, but mere minutes without breathing." We need to breathe not only to live, but to feel good. Breathing consciously helps us find the strength and energy to live fearlessly. The first step in improving your breathing is to become aware of it. The way we breathe sends messages to our body. Are we relaxed? Afraid? Uptight? Nervous? Insecure?
Joan Witkowski teaches breathing coordination, and through her I've learned a simple technique of counting on a long exhale until your breathing becomes deeper and you stop holding or forcing the breath. The marvelous thing about it is that it takes only a few minutes in the middle of your day to recharge and restore.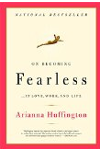 More About this Book
On Becoming Fearless...in Love, Work, and Life
Observing that her own teenage daughters were beginning to experience some of the same fears that had once burdened her--how attractive am I? do people like me? do I dare speak up?--Arianna...
Breathing is vital for health and wellness. Breathing techniques can help you feel calm, relaxed, and reduce stress levels. When you feel calm, stress hormones are reduced and resting heart rate and blood pressure levels decline.
Your respiratory system works intimately with your cardiovascular system to accomplish optimal cellular function by transporting oxygen from the environment and transferring it to the bloodstream, and transferring carbon dioxide from the blood to the lungs and eventually transporting it out of your body. Deep breathing is essential in this process.
Continue Learning about Mind/Body Exercise