Reduced-lactose milk is prepared at processing plants by adding the enzyme lactase to pasteurized milk and storing it for twenty-four hours. When the appropriate level of reduction has been reached, the milk is pasteurized again to stop the activity of the lactase enzyme. Milk labeled "lactose-reduced" must contain at least 70 percent less lactose than regular milk. Milk that has 99.9 percent of its lactose hydrolyzed may be labeled "lactose-free." In addition to lactose-reduced and lactose-free milks (2 percent fat, 1 percent fat, and nonfat), other lactose-reduced dairy products are also on the market. In general, reduced-lactose milks and other reduced-lactose dairy products taste sweeter than their traditional counterparts.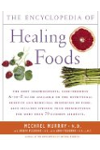 More About this Book
Encyclopedia of Healing Foods
From the bestselling authors of The Encyclopedia of Natural Medicine, the most comprehensive and practical guide available to the nutritional benefits and medicinal properties of virtually everything...
Continue Learning about Milk & Health