Dry whole milk/whole milk powder is usually formed by evaporating water from pasteurized, homogenized whole milk. Dry whole milk or whole milk powder contains between 26% and 40% milk fat (by weight) and not more than 5.0% moisture. By removing moisture to the greatest extent possible, microbial growth is prevented. Dry milk has a much longer shelf life than liquid milk and does not need refrigeration. One-third cup of whole dry milk contains 210 calories, 11 grams of fat, 11 grams of protein and 16 grams of carbohydrate.
Dry whole milk contains all of the components of whole milk, but in a concentrated form. Dry whole milk is made from pasteurized whole milk from which water has been removed by spray or, sometimes, roller drying. On a dry-weight basis, dry whole milk must contain not less than 26 percent or more than 40 percent milk fat and not more than 5 percent moisture on a nonfat milk solids basis. The addition of vitamin A and/or D is optional. Dry milk products generally resemble their fresh counterparts when reconstituted.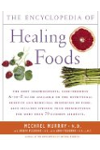 More About this Book
Encyclopedia of Healing Foods
From the bestselling authors of The Encyclopedia of Natural Medicine, the most comprehensive and practical guide available to the nutritional benefits and medicinal properties of virtually everything...
Continue Learning about Milk & Health