When you think of what your child gets from milk, you probably think of calcium, but milk is also a great source of these other vitamins and nutrients:
Protein: Needed for overall growth and to maintain muscle, bone and cartilage, and every system in the body.
Vitamin D: Essential for bones and teeth, and helps the body absorb and utilize calcium, and may help reduce the risk of many cancers.
Vitamin B12: Needed to produce red blood cells; helps nervous system function.
Phosphorus: Mineral needed for bone formation.
Potassium: Helps the body transmit nerve impulses and maintain normal heart and artery function. This nutrient also helps in the metabolism of carbohydrates and proteins.
If your child recently celebrated her first birthday, serve her whole milk rather than low fat, or reduced fat milk, until she's two. She needs the extra fat to keep her growing well and ensure brain development during that year. After age 2, low fat milk -- 1% or 2% fat -- is good, or your doctor may recommend fat-free or skim milk if your child has a weight issue.
From Good Kids, Bad Habits: The RealAge Guide to Raising Healthy Children by Jennifer Trachtenberg.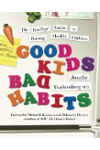 Continue Learning about Milk & Health