Cow's milk is an excellent source of high quality protein. The basic composition of cow's milk protein is about 80 percent casein and 20 percent whey protein. The two proteins have different physical characteristics. Casein is generally defined as the protein that precipitates at pH 4.6, a property used in the manufacturing of cheese. Whey protein separates out in the manufacture of cheese and consists predominantly of beta-lacto globulin and alpha-lactalbumin. Alpha-lactalbumin has a high content of the amino acid tryptophan. The action beta-lacto globulin possesses is still speculative.

Milk contains a very good supply of most B vitamins and minerals. While it is easy to think of milk as supplying only calcium, it actually provides very good levels of virtually every other mineral, including trace minerals.

Milk is a good source of conjugated linoleic acid (CLA), especially if it is from pasture-fed cows. Other interesting milk fat components being investigated for their potential health benefits include sphingomyelin, butyric acid, and myristic acid.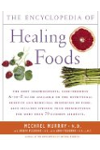 More About this Book
Encyclopedia of Healing Foods
From the bestselling authors of The Encyclopedia of Natural Medicine, the most comprehensive and practical guide available to the nutritional benefits and medicinal properties of virtually everything...
There are a few different types of milk. Cow's milk is high in calcium, protein and is fortified with Vitamins A and D. An 8 oz. glass provides 12 grams of carbohydrates (milk sugar) and 8 grams of protein. If you are lactose intolerant (unable to digest milk protein) then a calcium fortified soy, almond or rice milk can give you adequate nutrition as well.
Continue Learning about Milk & Health