Goat's milk has many of the same nutritional characteristics as cow's milk. It is a very good source of protein, phosphorous, calcium, riboflavin, and biotin. It is also a good source of pantothenic acid and vitamin D. A 31/2-ounce (100 gram) serving of goat's milk provides 69 calories, 3.6 grams of protein, 11 grams of cholesterol, 4.1 grams of fat as saturated and monounsaturated forms, and 4.5 grams of carbohydrate as sugars. A 31/2-ounce (100 gram) serving of goat's milk cheese provides 364 calories, 21.6 grams of protein, 79 grams of cholesterol, 29.8 grams of fat, of which 20.6 grams are saturated, and 2.5 grams of carbohydrate.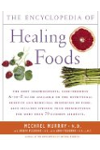 More About this Book
Encyclopedia of Healing Foods
From the bestselling authors of The Encyclopedia of Natural Medicine, the most comprehensive and practical guide available to the nutritional benefits and medicinal properties of virtually everything...
Continue Learning about Milk & Health