Goat's milk is very similar to cow's milk with regard to the protein and lactose. If you have a cow's milk allergy or lactose intolerance, goat's milk may not be right for you. In addition, it has a strong taste which some people do not like. However, if you simple like the taste of goat's milk, it is a healthy product.

To be safe, babies less than one-year old should get breast milk or formula. Kids older than one-year old should get no more than twenty four ounces of milk per day. Drinking too much milk (even though milk is healthy) can lead to iron deficiency anemia.
Perhaps the greatest benefit of goat's milk is that some people who cannot tolerate cow's milk are able to drink goat's milk without any problems. Allergy to cow's milk has been found in many people with conditions such as recurrent ear infections, asthma, eczema, and even rheumatoid arthritis. Replacing cow's milk with goat's milk may help reduce some of the symptoms of these conditions.

Goat's milk can sometimes even be used as a replacement for cow's milk for children who have difficulties with dairy products. Unfortunately, goat's milk is lacking in several nutrients that are necessary for growing infants, so parents interested in trying goat's milk instead of a cow's milk - based formula for their infants should ask their pediatrician or other qualified health care practitioners for recipes and ways of adding these important and vital nutrients. For older children and adults, however, goat's milk can be an excellent calcium-rich alternative to cow's milk, for in addition to calcium, it contains many of the same nutrients found in cow's milk.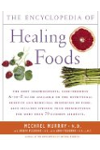 More About this Book
Encyclopedia of Healing Foods
From the bestselling authors of The Encyclopedia of Natural Medicine, the most comprehensive and practical guide available to the nutritional benefits and medicinal properties of virtually everything...
Continue Learning about Milk & Health