Most women with migraines have normal pregnancies and give birth to healthy babies. Migraine sufferers are at slightly higher risk for developing increased blood pressure with preeclampsia/eclampsia and strokes, although the overall occurrence of these complications is quite small. You can help reduce your risk of high blood pressure and strokes by following these healthy lifestyle habits:
Avoid nicotine.
Exercise regularly.
Maintain normal levels of cholesterol in your diet.
Avoid excess weight gain.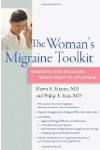 Continue Learning about Migraine Headaches