Migraines are different from other headaches, including tension headaches. In this video, Adel Olshansky, MD, a neurologist at West Hills Hospital, gives examples of how migraines feel different than other types of headaches.
Regular headaches tend to cause pain on both sides of the head, often in the forehead area or the back of the neck. They also tend to come on more slowly over time. They can last for a short time or several hours but tend to be easily relieved by Tylenol or ibuprofen. However, migraines tend to come on suddenly within an hour and be on only one side of the head. They are often not relieved by Tylenol and ibuprofen. Additionally, migraines are more commonly associated with nausea, vomiting, sensitivity to light and sensitivity to sound. They may require special prescription medications in order for someone to feel relief. If you think you may be having migraines, see your physician to discuss your symptoms.
Headache characteristics can include:
Dull, constant, usually non-throbbing pain in the forehead, nasal area, cheek, eyes, and sometimes the top of the head
Muscle tightness, pressure
Chief source of pain is tightening muscles that irritate nerve endings in the head and neck
Generally short-lived and infrequent
Migraine characteristics can include:
Pain (throbbing) typically on only one side of the head
Nausea or vomiting
Sensitivity to light or sound
Attacks can last four to 72 hours, sometimes longer
Visual disturbances or aura common
You know that not all headaches are migraines -- but did you know that not all migraines include an aching head? Learn the key differences between migraines and run-of-the-mill headaches in this video with integrative medicine expert and Dr. Oz Show guest Mosaraf Ali.
Migraine is more than just a headache. Migraine includes a constellation of pain and non-pain symptoms. Most migraine attacks can be divided into four phases:
Prodrome - 12 - 24 hours before headache, irritability, neck pain, food cravings, yawning
Aura - ½ - 1 hour before headache, affects 1 in 5 people with migraine, vision changes, numbness, weakness, dizziness, confusion
Headache symptoms (includes pain) - 8 - 12 hours of migraine, symptoms, throbbing headache, nausea, sensitivity to lights, sensitivity to noise, sensitivity to odors, disability or limited activities
Postdrome - 12 - 24 hours after, headache, hung-over feeling, fatigue, poor concentration
You may experience all or only some of these phases with your migraines, and you may have different phases during different migraine episodes.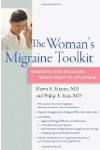 Continue Learning about Migraine Headaches