When you are initially seen for your headaches, you will likely have many questions about your headache condition. Since there is a lot to cover and time is limited, make sure you use this time wisely. Prioritize your questions and get the most important ones answered first.

You'll probably get the best results if you limit yourself to asking three or four major questions at each visit. Don't expect to get everything addressed during one visit. Save these less pressing questions to ask at a later visit.

You will also get the most useful answers if you ask direct questions. For example, if your doctor wants you to take an antidepressant for your headaches, don't be afraid to say, "I don't think I'm depressed. I'm just very frustrated with these headaches, and I'm afraid no one believes that anything is wrong. Do you think I have a mental disorder?" Doctors have a much easier time answering pointed questions. In this particular case, the patient should understand that doctors use certain antidepressant medications at times because they affect certain brain chemicals that are important not only in depression, but also for chronic pain. By clarifying this, it is easier to understand why the doctor is prescribing the medication.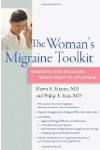 Continue Learning about Migraine Headaches