The headache phase of a migraine attack can be subdivided into early headache, midheadache, and late headache phases. Headaches often start out as mild during the early phase, build in intensity over the mid-headache phase, and then diminish during the late phase. Headaches may start on one side during the early headache phase and then spread to involve the entire head as severity intensifies during the mid-headache phase. In most people, the headache phase lasts about 8 - 24 hours in adults and 2 - 4 hours in children with migraine.
Although termed the headache phase, migraine sufferers usually also experience a variety of other unpleasant and disabling symptoms during this phase:
Extreme sensitivity to noises, lights, and odors
A strong desire to isolate oneself
Nausea and vomiting
Imbalance, including dizziness, unsteadiness, and room spinning
These symptoms can lead to significant disability during a migraine, causing you to leave work, find alternatives for childcare, and retreat to a quiet, dark room. Many people are entirely unable to function during a severe attack. An effective headache treatment strategy can significantly reduce the disability associated with the headache phase.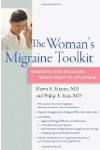 Continue Learning about Migraine Headaches