The fourth and final phase of migraine is the postdrome phase. Almost three of every four people who suffer from migraine experience a migraine postdrome. This phase starts after the symptoms during the headache phase have faded, and it typically lasts for several hours to 1 day.
The most commonly used description of the postdrome is "headache hangover." Migraine sufferers typically describe a variety of symptoms:
Fatigue and a drained feeling
Feeling washed out
Feeling like being "in a fog"
Difficulty concentrating
Having low-grade pain or discomfort
The postdrome can substantially extend the time of disability experienced with migraine. This is why people may need 12 - 24 or even up to 48 hours after a severe migraine to feel like they're "back to normal."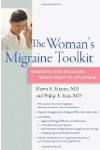 The postdrome phase is the last phase of a migraine headache. It is usually preceded by the prodromal phase, the aura phase and the headache phase. The postdrome phase comes after the pain of a migraine has worn off. It leaves the individual with a feeling a little like a hangover. The person can either be irritable and weak or invigorated and happy.
Continue Learning about Migraine Headaches