A rule of thumb is that if your migraines affect your quality of life in either intensity or frequency, you would benefit from a discussion with your doctor about your migraines. A doctor has many tools, many of which are not medications, to help someone with a migraine. On average, a person waits 7 years to get treatment for migraines. That is too long for someone to suffer needlessly from a treatable condition.
Make sure you give your doctor complete information about your migraines and any other health problems. Migraine symptoms you need to tell your doctor about include:
How often you get a migraine
How long your migraines usually last
How disabling your migraines are—for example, do you miss work or school because of your headaches, or do you miss going to family functions or social activities because of headaches, or because you're afraid you might get a headache?
What treatments you have tried in the past
Whether you also get other headaches regularly
Make sure you tell your doctor about:
Other medical conditions that you're being treated for
Any history of head or neck trauma or surgery
All of the pills you take and their dosages—including over-the counter and natural remedies. It's best to bring in all of your medications for every visit to make sure your doctor knows exactly what you're taking.
Any other treatment you're getting
Plans for conception and possible pregnancy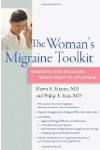 Yes. You should let your doctor know about your migraine symptoms especially if you have any additional symptoms such as vision changes, lack of sensation on one part of the face or body, or weakness on one side. One may have classic symptoms of vision changes and tingling in the hand but if this changes to something different, an evaluation by a neurologist is recommended to make sure there is no other cause for those symptoms.
Continue Learning about Migraine Headaches