Migraines differ in boys and girls:
In early childhood, about 5 percent of boys and girls have migraines.
Migraines start at a younger age in boys -- typically around age 5.
Migraines in girls usually start later -- typically around puberty, with age 12 the most common age for migraines to start in girls.
Migraines often disappear as boys reach adulthood, but they continue throughout adulthood in girls.
Individual migraine episodes are generally more frequent and last longer in girls.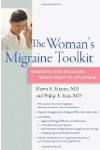 Continue Learning about Migraine Headaches