Migraine attacks aggravated by your menstrual period are typically more severe than attacks that happen at other times of the month. Compared with migraine headaches that occur at other times of the month, menstrual migraines tend to be more frequent, more disabling, and less responsive to medications.

Menstrual migraines can be diagnosed when you have a marked increase in headache frequency or severity that occurs when estrogen levels drop -- from 2 days before the onset of menstrual bleeding through the first 3 days of your period.

Many women find that those treatments that work well to control their usual non-menstrual headaches are less effective for menstrual attacks. For this reason, you often need special treatment for your menstrual migraines.

The good news about menstrual migraines is that they are generally predictable. Because you can often identify when these migraines are likely to occur, you can use medication and non-drug treatments to try to effectively prevent or minimize their severity.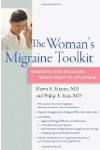 Continue Learning about Migraine Headaches